Vital Viper Approved
is a meme involving stamps of approval from
Vital Viper
that are pasted over avatars or signatures to show that
Vital Viper
has "
APPROVED
" them. At one point, Vital Viper mocked the "
APPROVED
" avatars by making his say "
VITAL VIPER UNAPPROVED
".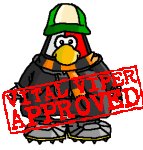 Vital Viper began approving avatars when the Super Hero Lounge forum reopened January 2009. He created a thread called,"Get your Sigs and Avys VV Approved Here!!!", in this thread forum members could post and have either their avatar or signature approved by Vital Viper or one of his helpers as long as they met his lax approval guidelines.
Derivatives
Edit
Ad blocker interference detected!
Wikia is a free-to-use site that makes money from advertising. We have a modified experience for viewers using ad blockers

Wikia is not accessible if you've made further modifications. Remove the custom ad blocker rule(s) and the page will load as expected.